Adam and Eve: Golf - Play Adam and Eve: Golf on Dinosaur Games
Adam and Eve: Golf
Game Description:
If you are a golfer then try playing Adam and Eve: Golf at our website Dinosaursgames.net. This fun golf game requires to aim carefully and control your power to hit the ball into the hole. The more shots that you take the lower your score will be. A lot of obstacles will be an obstacle for Adam and Eve in this golf game, especially the dinosaurs who always block their way. so make sure that you aim carefully to get the ball into the hole.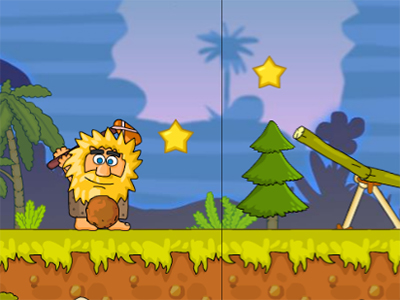 There are many levels in the game, Each level has different challenges that require you to overcome the best. To do this, we'll guide you through some tips
- Click, put in the necessary force and try to get the coconut into the hole!
- Try to aim for the hole and take a powerful swing to score a hole-in-one. Hit the three stars along the way and avoid the magma pits. The dinosaurs will get in your way sometimes, but they can also help you if you play it right!
- Take care though, since one mistake can mean that you have to repeat the level. If the coconut reaches its place, you win and can get to the next level.
Try to this game right now! We hope that you like it, this is a flash game, suitable for children at all ages! Plus, the game has unique graphic, clear music, definitely will not disappoint you! Please enjoy and have fun!
Watch video here:
How to play:
Hold left mouse and drag to aim, release to shoot.
Tips and Tricks:
Dinosaur Games Online - Copyright © 2019 - About | Sitemap | Contact Us