Robot Dinosaur War Megalosaurus
Game Description:
Robot Dinosaur War Megalosaurus Game
Robot Dinosaur War Megalosaurus game is a free online Dino Robot game that you can play in your browser at Dinosaursgames.net games online. Your task in this game is to create a robot Megalosaurus Dion, help human defense the alien robot attack.
You need to collect golds, upgrade your robot dinosaur, get more power and higher speed. And then, your next mission is to create a human type robot Megalosaurus, get into space, destroy all alien robots, be careful the dangerous meteorite.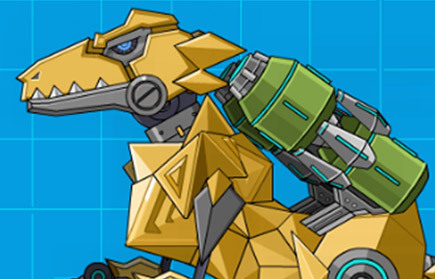 In this game, there are 3 levels. In each level of the game you will be supplied with various parts to assemble the Robot Dinosaur Megalosaurus. You ought to use the parts very creatively to form the robotic warrior. You must try to complete each level of the game as fast as possible because that is how you can earn maximum score.
If you like the assembling Robot Dinosaur Megalosaurus game, then add this dinosaur to your favorites, after building it and his pieces. These skills make this dino robot unique and special, a good addition to your collection.
This is very interesting game with epic music! Try it right now! To play more dinosaur games, make sure to continue to visit here on this website. All new dinosaur games will be updated daily. Please enjoy and have fun!
How to play:
Use your mouse to play this game.
Tips and Tricks: